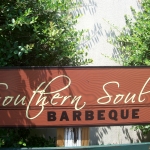 Southern Soul Barbecue
318 Mallory Street
Saint Simons Island, Georgia 31522
912-634-7516
www.southernsoulbbq.com
By James Calemine
James Calemine's "Never Ending Soul Food Tour" includes documented visits to barbecue joints, catfish dens, chicken shacks and any establishment serving memorable vittles. All photos by James Calemine
"I'm gonna sail like a ship on the ocean
I'm gonna sail until my sailin' day is over."
-
The Georgia Sea Island Singers

Upon returning to my homeland for various recreation, work and relaxation, I always make the rounds to see the hometown folks. One of my essential stops was to see two old childhood and high school friends—Griffin Bufkin and Harrison Sapp—owners of Southern Soul Barbecue, an indelible joint located on Saint Simons Island, Georgia. I could tell old stories, but I'll save those for another day...
Harrison Sapp, a third generation 'Smoker', spends his days crafting the art of smoking meat. He learned tricks of the trade early…the subtle difference between hot and cold smoke, nuances between working with pecan and oak wood among other cooking minutiae. He arrives at 4AM to start the fire and rub down the meat. Harrison cooks with two custom-made Lang smokers obtained from the founder Mr. Lang himself in Nahunta, Georgia.
Griffin Bufkin cooked in this same building for ten years when it was a restaurant called Frannie's. Then he began booking bands across the street, which later became Rafters. Tired of the wicked nightlife schedule, Griffin decided to open a barbecue joint under the same roof with Palm Coast Coffee. Griffin utilizes his music contacts to schedule weekend live entertainment from groups such as Atlanta's
Mudcat

, Asheville's the Grit Pixies and the Appalachian female trio, The Barrelhouse Mamas.
Now, onto the food…These boys leave no pig unturned. One hot July Monday afternoon my daughter and I stopped by to enjoy the victuals. This counted as my fourth visit since they opened. Griffin sat down with us and as we ate he elaborated on the Southern Soul's cooking style: "We've come up with a secret butt-rub. We call it 'Soul Seasoning'. That's the foundation of everything on our menu. A little pinch gets put into everything. I can tell you it consists of cumin, thyme, brown sugar, kosher rock salt, cayenne and some other spices. That's what we put on the meat in the morning. It goes on for about 12 hours at 200 degrees.
"All our meat is complimented by our homemade sauces which we try to keep pretty regional. We have three sauces—one's in limited quantity. My favorite is the North Carolina style vinegar. It cuts the meat. It doesn't cover the meat. It cuts right through a piece of pork. It's black pepper, vinegar, a little tomato. It's what I call the 'Thousand Island' of the barbecue sauces because everybody loves it. The Sweet Molasses sauce has brown sugar, molasses and a little ketchup. The one we run in limited batches is the South Carolina mustard. I take the North Carolina sauce and the South Carolina sauce and mix it up. I call it the One Carolina-'Why Can't We All Get Along' sauce.
"We basically smoke a shoulder and a butt which is where the majority of our meat comes from. It's a 12-hour smoke and we never sauce the meat—you sauce it yourself. The briskets are lean--it's a traditional competition smoke. We don't boil our meat or steam the ribs. We smoke 'em for 8 hours with a dry rub and then wrap them in tin foil—so there's a little steam—with honey, garlic and a little apple juice. Then we'll give them a couple more hours for tenderness.
"As far as side items, we have two main sources of vegetables right now. One is Sapelo Farms--it's an all organic farm that's been around a long time. We get all our collard greens from them. We get all our vine-ripe tomatoes there. We try and buy as much produce as we can locally. We have a tomato sandwich on the menu. I'm a tomato Nazi. We get our meat from Wainwright Farms in Nahunta, Georgia—butt, shoulders, even a whole pig. We love to do that for parties. They have an amazing country sausage we smoke.
"The Brunswick stew is a recipe I've been making for 20 years when this place was Frannie's. It's a spicier take on her recipe. Our cornbread…some people take their country bread seriously as they do their music…'It's too sweet…It's too dry.' We found a good balance. We take the sweet Jiffy mix with the southern white and it comes out great—a little buttermilk. The baked beans are one of our own creations—we add a little yellow mustard and our sweet sauce and stick them up under the grill in an open pan and the butts drip on them all day long.
"Our greens are cooked with a stock of brown sugar, red pepper and salt. I'll also use yesterday's ribs and boil them up in the water to give them a good stock. The cole slaw is a recipe we came up with after many tries—we basically added mayonnaise and our seasoning. We have traditional potato salad where we have Dijon and eggs, horseradish and mayonnaise. We have a little kids menu with grilled pimento cheese sandwiches, PB & J, and fried bologna sandwiches. We do catering, take-out and we're set up in the back for parties."
On the 3-day Fourth of July weekend, Southern Soul Barbecue sold over 600 pounds of barbecue—not including the week leading into the holiday or the week after. In their first year, they held their own on the intense local holiday test. In early October they will compete in the Big Pig competition in Vienna, Georgia.
On this day I ate a barbecue sandwich, collard greens and baked beans. My daughter ate half of a hefty chicken salad sandwich that contained no chunks, but a fine mashed texture resembling tuna salad. The meat here is clean and contains no mystery bits—no chopped pork. The collard greens (I think I like Southern Soul's better than one of my all-time favorites Weaver D's) and beans contend with anyone out there (ranking second only to Fatt Matt's in Atlanta).