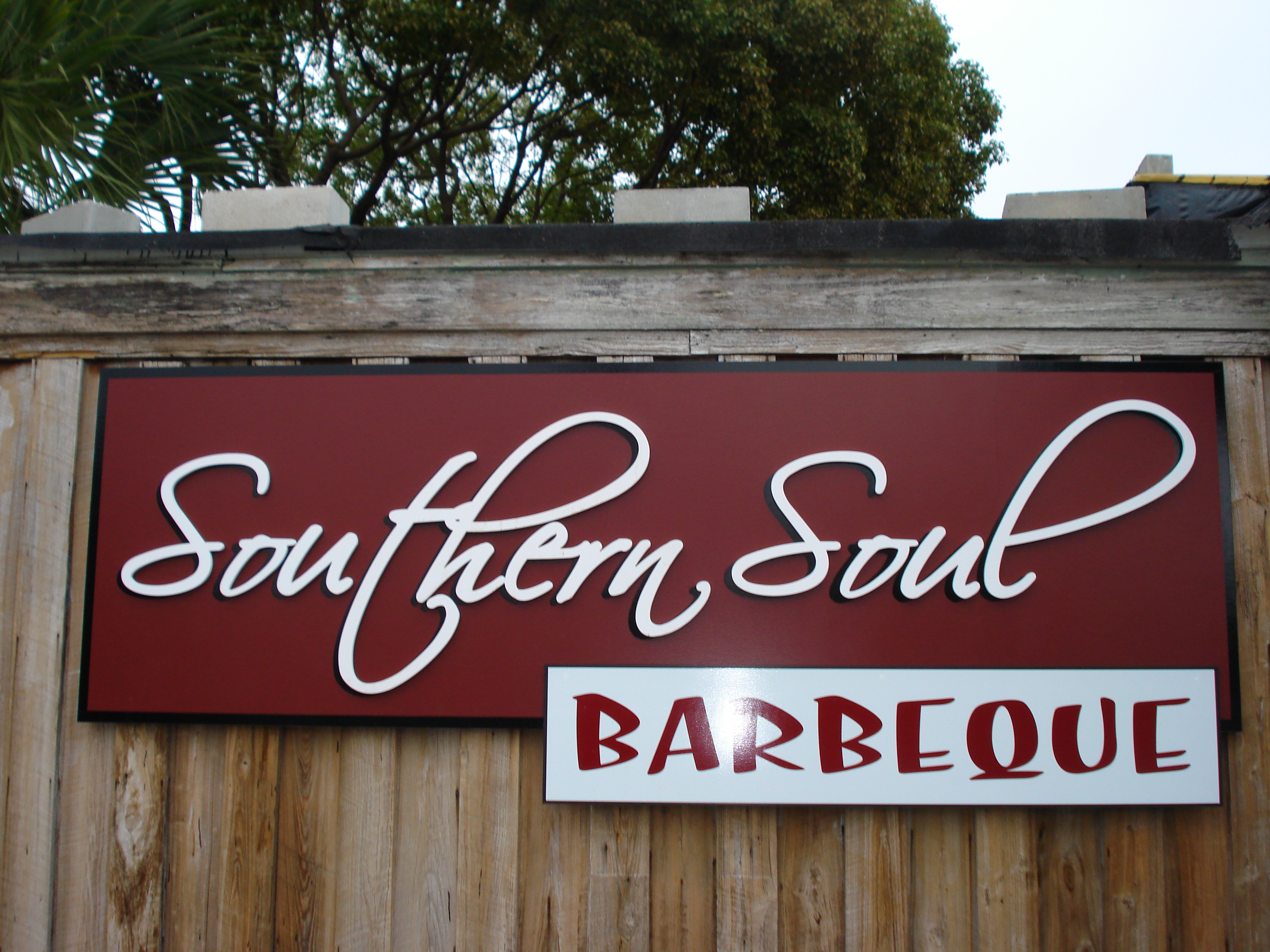 In our last review of southern soul bbq, we highlighted this first-year establishment's high-grade victuals. The eatery now has a new location. The original Southern Soul joint down on Mallory Street still exists, but now this larger-drive-in style location attracts even more Cue fans.
Recently, Southern Soul won the Silver Spoon award in top new restuarant category in Southern Trend magazine. In October, Southern Soul placed 30th in points out of 105 contestants at the prestigious Annual Pig Jig in Vienna, Georgia...not bad for first timers.
Today is a pleasant, overcast day on the coast. The Georgia Bulldogs play The Georgia Tech Yellow Jackets this afternoon, and hungry football fans have been driving up to Southern Soul all day to load up on barbecue and all the fixings for an intense day of college football wars. The woodsmoke floats in the air as winter begins to set in along with the holidays...
In this installment of the Never Ending Soul Food Tour, Southern Soul owner Griffin Bufkin agreed to share his indelible "Brunswick Stew" recipe.
Southern Soul Barbecue's "Brunswick Stew" Recipe
-Sweat your diced onions & garlic until translucent for about 15 min. Add teaspoon
of cayenne pepper
-Tablespoon of pepper & salt with a fourth of a cup of Worcestershire sauce
-Simmer for 10 min, then add one-half a cup of Southern Soul North Carolina Vinegar Sauce & one-half cup of Southern Soul Molasses BBQ Sauce
-Add 1 pound of pulled smoked pork
-Add 1 pound of pulled chicken and cook for ten minutes
-Puree 6-8 vine ripe tomatoes and add to pot followed by...
-4 cups of sweet corn (Silver Queen variety) & 4 cups of butter beans
-Finish off with one quart of a good quality chicken stock and stew for a couple of hours on medium heat
-Serve with warm buttermilk corn bread.
I tried the ribs today and they were mighty fine. The collard greens taste sweet and you can drink the juice...a fine pot liquor. The baked beans serve as a staple, and Griffin spared me the chore of cooking up the invigorating Brunswick Stew.
Until next time...these boys are indeed 'smokin' supper'...